The University of Valladolid participates in the call for the European University Alliance 2022 together with nine universities in Europe. AcrossEU is the name of the alliance that aims to enhance the internationalization for students, researchers, and staff, strengthen lifelong learning, and promote entrepreneurship and innovation, and an inclusive sustainable green and digital transition. Students from the collaborating universities will be offered an international context and an increased exchange and mobilities.
The members of the new European Alliance AcrossEU are Université de Caen Normandie (France), Lapland University Consortium with two members, University of Lapland and Lapland University of Applied Sciences (Finland), University of Pardubice (Czech Republic), Universtità degli Studi di Siena (Italy), Ss. Cyril and Methodius University in Skopje (Northern Macedonia), Umeå University (Sweden), Universidad de Valladolid (Spain) and Université de Fribourg (Switzerland, as associate member).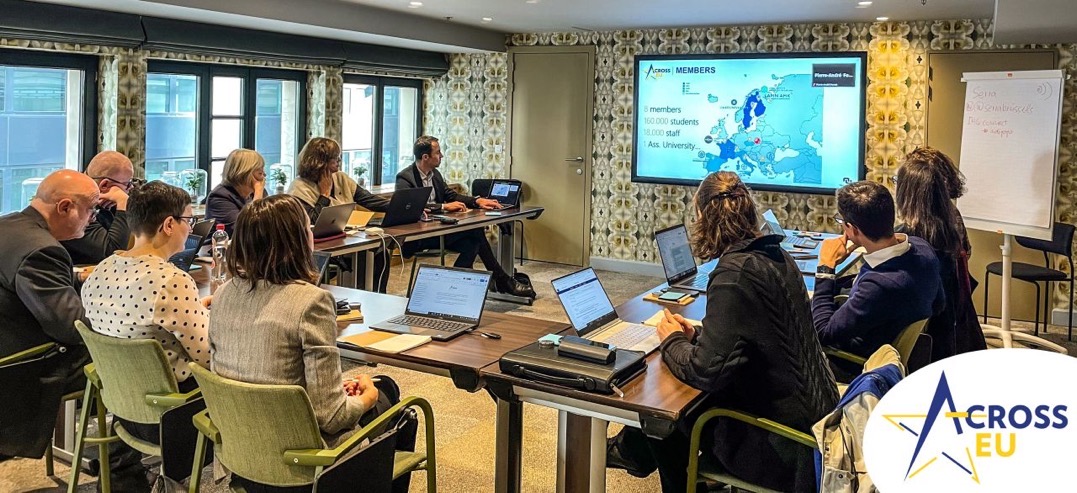 The AcrossEU alliance represents a qualitative leap in cooperation among European universities, strengthening the link between teaching, research, innovation, knowledge transfer and impact in the different regions in which they are embedded.
The alliance will play a fundamental role in the development of an international innovation and entrepreneurship ecosystem in which knowledge, talent and companies converge.
The proposed alliance of European universities faces the challenges of the green and digital transition that requires new approaches and commitments. To this end, the team, in which the University of Valladolid has joined, proposes cross-disciplinary and cross-territorial  approaches, with a special focus on  mobility.
From March 10th to 15th, these universities have met in Brussels to finish the project proposal on which we have been working throughout this academic year. On March 15th the project was presented to the European Parliament and submitted to the European Commission on March 22nd.